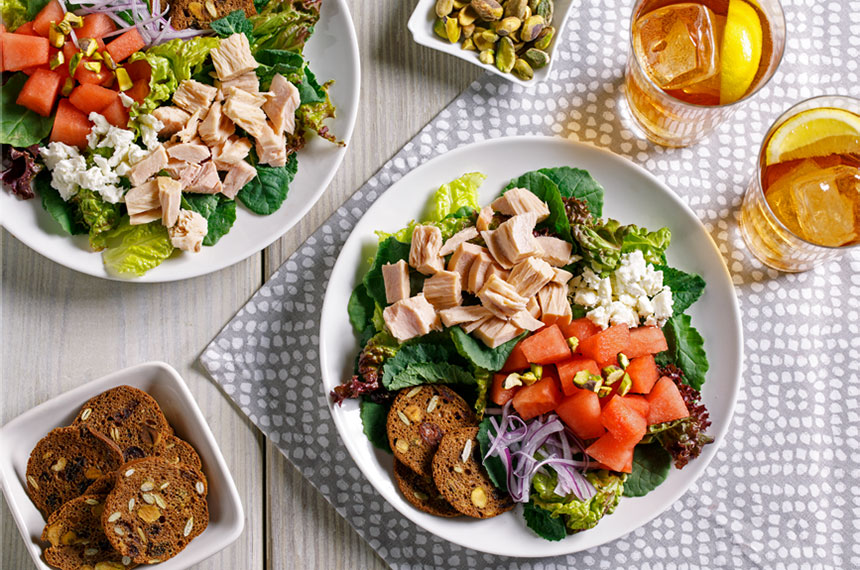 Albacore, Baby Kale and Watermelon Salad
Mouth-watering watermelon mixed with vitamin-packed kale and Albacore tuna gives this salad a healthy dose of deliciousness.
---
Ingredients
1 can (4.6 oz) Blue Harbor Fish Co.® Albacore Tuna in Water, No Salt Added, drained
3 cups torn red leaf lettuce
1 cup baby kale
¼ cup slivered red onions
1 cup diced watermelon
2 Tbsp. chopped pistachios
2 Tbsp. crumbled feta cheese
1 bag Fruit N' Nut Crisps
Dressing
1-½ Tbsp. extra virgin olive oil
1 Tbsp. lemon juice
Salt and pepper to taste
Preparation
Place lettuce and kale in large salad bowl.
Add red onions, watermelon and feta, and toss.
In a small bowl, whisk the extra virgin olive oil, lemon juice, salt and pepper.
Drizzle the salad with dressing, then toss and top with pistachios.
Garnish with Fruit N' Nut Crisps (garnish not included in nutritional analysis).
Servings: 2
Prep Time: 10 minutes
Cook Time: 0 minutes
Nutritional Information
Serving Size 3 Cups (258g)
Total Carbohydrate
14g
5%
Percent Daily Values are based on a 2,000 calorie diet.