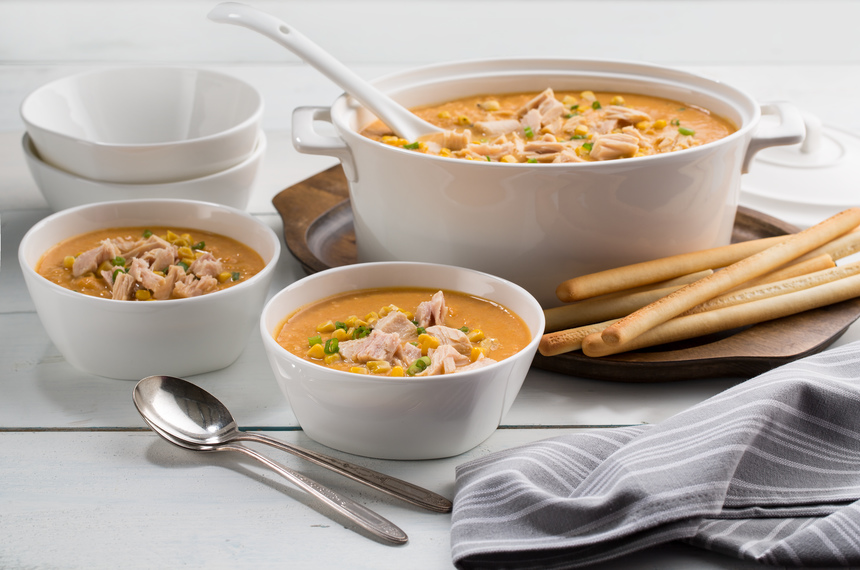 Sweet Potato and Fire Roasted Corn Chowder with Albacore
A twist on a classic corn chowder – sweet and smoky – it's a perfect fall or winter supper!
---
Ingredients
2 cans (4.6 oz.) Blue Harbor Fish Co.® Solid Albacore Tuna in Water
2 tsp. canola oil
½ cup chopped yellow onion
½ cup chopped carrot (~ 1 carrot)
¾ cup chopped celery (~ 2 stalks)
2 cups diced sweet potato or yam
2 cups chicken broth, low sodium and fat free
1 can (14.75 oz.) fire roasted corn, drained (reserve ¼ cup)
2 cups whole milk
1 tsp. chili powder
â…› tsp. paprika
Preparation
Heat canola oil in a medium sauce pan. Add onions, carrots and celery and sauté for 5 minutes. Add the yam and sauté for an additional 5 minutes.
Add chicken broth, corn, milk, chili powder and paprika. Bring to a boil then reduce the heat and simmer for 10 minutes.
Once potato is soft, blenderize the mixture either in a stand blender or using a hand held stick blender.
Serve in bowls and top with ¼ cup of chunked and drained tuna, a few kernels of reserved corn and shredded cheddar cheese if desired.
Servings: 4 servings
Prep Time: 15 minutes
Cook Time: 20 minutes
Nutritional Information
Total Carbohydrate
32g
11%
Percent Daily Values are based on a 2,000 calorie diet.