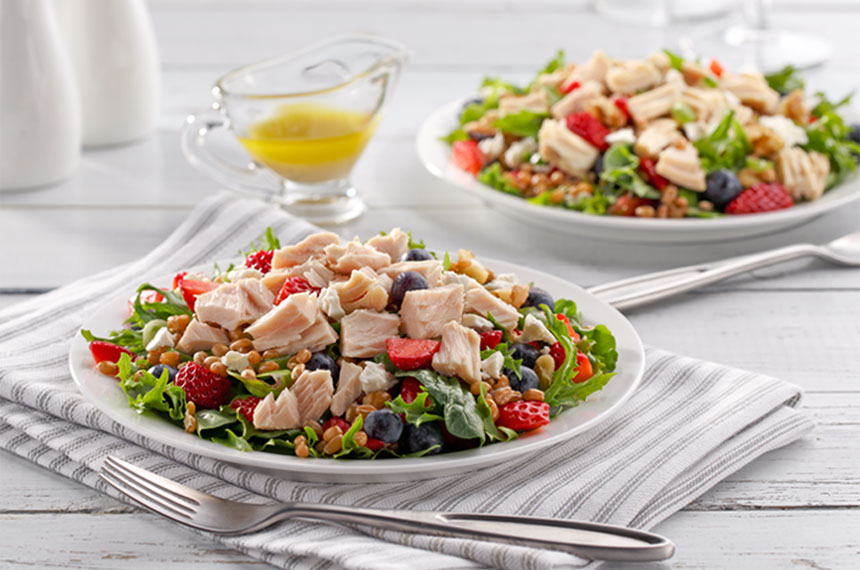 Spring Wheat Berry & Tuna Salad
Refreshing, light and bursting with vitamins and fiber, Spring Wheat Berry & Tuna Salad is an easy-to-prepare, easy-to-love salad.
---
Ingredients
1 can (4.6 oz) Blue Harbor Fish Co.® Albacore Tuna in Water, No Salt Added, drained and chunked
4 cups baby lettuce mix
½ cup blueberries, washed
½ cup diced strawberries
1 cup cooked and cooled wheat berries
1 Tbsp. chopped green onion (about 1 onion)
2 Tbsp. chopped walnuts
2 Tbsp. feta cheese (optional)
Dressing
¼ cup extra virgin olive oil
2 Tbsp. white wine vinegar
1 Tbsp. Dijon mustard
Salt and pepper to taste
Preparation
Place lettuce in large salad bowl or split between two small bowls.
Add blueberries and strawberries, and toss.
Mix wheat berries, onion and walnuts together in a small bowl. (This can be done ahead and stored in the refrigerator. A drizzle of olive oil may help keep the wheat berries from clumping.)
Top salad with wheat berry mix, tuna pieces and feta cheese, if desired.
In a separate bowl, whisk vinegar and mustard into the olive oil. Add salt and pepper, and toss with the salad.
Time-saving tip: Cook wheat berries over the weekend and store in a container in the refrigerator. Pull out what you need during the week.
Servings: 2
Prep Time: 10 minutes
Cook Time: 0 minutes
Nutritional Information
Total Carbohydrate
49g
16%
Percent Daily Values are based on a 2,000 calorie diet.