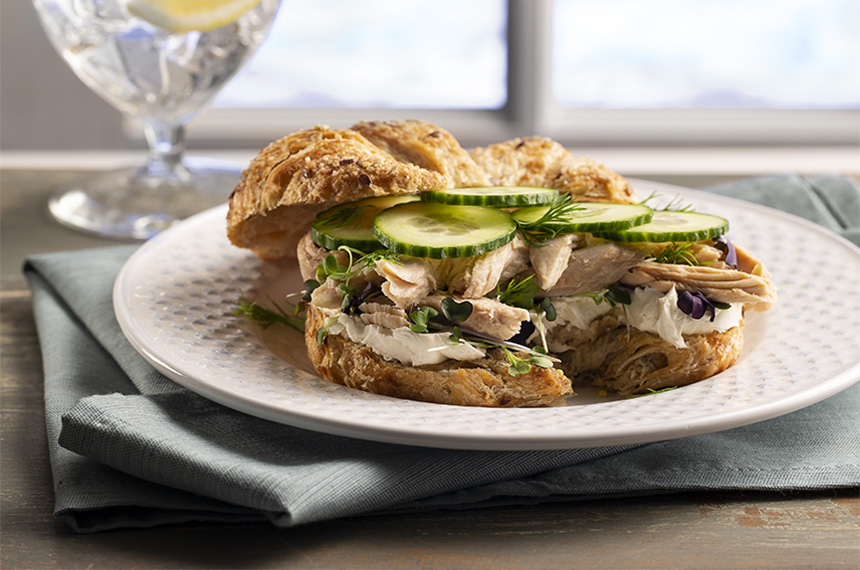 Salmon Cucumber Dill Sandwich
Ready to dig into a super fresh and mighty filling sandwich? You will be in five minutes.
---
Ingredients
1 can (5 oz.) Blue Harbor Fish Co. ® Jumbo Lump Pink Salmon
2 whole grain croissants
¼ cup cream cheese
½ cup microgreens, washed and dried
10 – 12 sliced cucumbers (thinly sliced)
Fresh dillweed
Preparation
Slice each croissant in half, lengthwise.
Spread bottom of each croissant with 2 Tbsp. cream cheese.  Top with ¼ cup microgreens.
Place ½ can of salmon pieces on top of the microgreens and lay cucumber slices across the top.
Sprinkle with fresh dill and place on top of croissant.
Servings: 2
Prep Time: 5 minutes
Cook Time: 0 minutes
Nutritional Information
Serving Size 1 sandwich (190g)
Total Carbohydrate
40g
15%
Percent Daily Values are based on a 2,000 calorie diet.