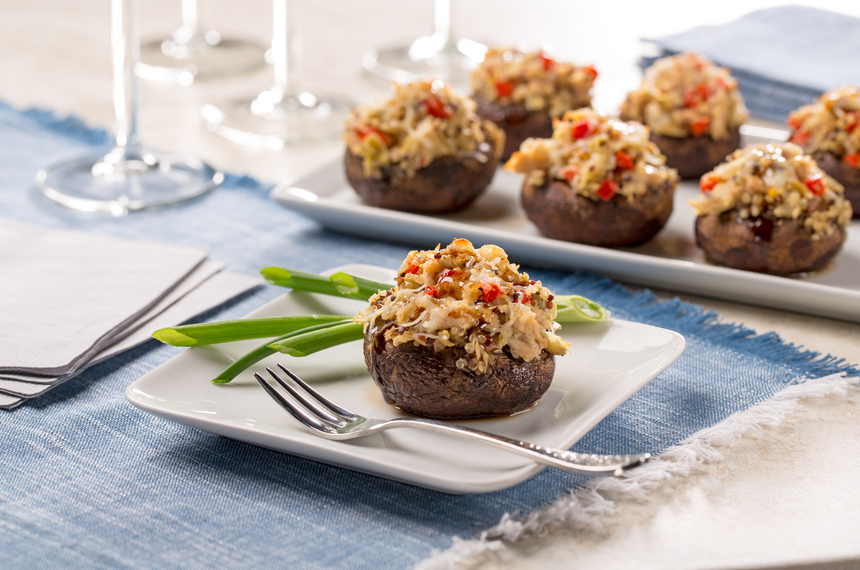 Albacore Stuffed Mushrooms
A delicious and elegant appetizer perfect for special occasions or just the two of you!
---
Ingredients
1 pouch (3 oz.) Blue Harbor Albacore Tuna in Water
12 - 16 medium size portabella mushrooms
¼ cup extra virgin olive oil
2 Tbsp. balsamic vinegar
½ cup cooked quinoa
¼ cup small diced red peppers
1 jar (6 oz.) marinated artichoke hearts, diced small
1 cup shredded Italian cheese blend, divided
Salt and pepper to taste
Preparation
Preheat oven to 425°F.
Clean mushrooms and dry well. Remove stem and scrape out interior gills. Place open side down on a sheet pan.
In a small bowl whisk olive oil and balsamic vinegar until combined. Brush mushroom tops with olive oil and balsamic vinegar mixture. Reserve remaining olive oil and vinegar mixture.
Bake mushroom caps for ~10 -15 minutes until just slightly softened and moisture released. Remove from oven and drain on a paper towel.
Meanwhile, mix quinoa, peppers, artichoke hearts and ½ cup cheese. Add salt and pepper to taste.
Spoon ~1 Tbsp. of the mixture into each mushroom cap. Top each with a tsp. of remaining cheese.
Broil for 2- 3 minutes to melt the cheese.
4 large mushrooms could be used and served as an entrée with a side salad alternatively.
Servings: 12 - 16 appetizer portions
Prep Time: 15 minutes
Cook Time: 13 - 18 minutes
Nutritional Information
Servings Per Container 12
Percent Daily Values are based on a 2,000 calorie diet.