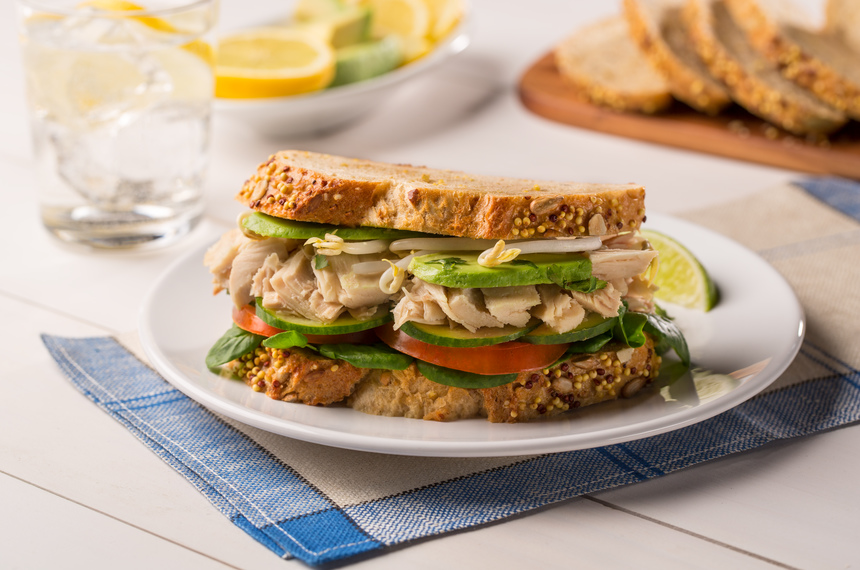 California Tuna Sandwich
One bite and you'll imagine sitting by the California coast!
---
Ingredients
1 can (4.6 oz.) Blue Harbor® Albacore Tuna in Water, drained
4 slices whole grain bread
½ cup watercress
8 thin slices cucumber
2 small tomatoes, sliced thinly
½ avocado, sliced thinly
¼ cup bean sprouts
2 tsp. chopped cilantro
1 tsp. lime juice
Preparation
Place 1 slice of bread on a plate. Top with watercress, cucumber and tomatoes.
Place ½ can of Albacore on top of the tomatoes. Top with avocado slices and bean sprouts. Sprinkle with cilantro and lime juice.
Top with second piece of bread.
Repeat for second sandwich.
Servings: 2 servings
Prep Time: 10 minutes
Cook Time: 0 minutes
Nutritional Information
Total Carbohydrate
40g
13%
Percent Daily Values are based on a 2,000 calorie diet.