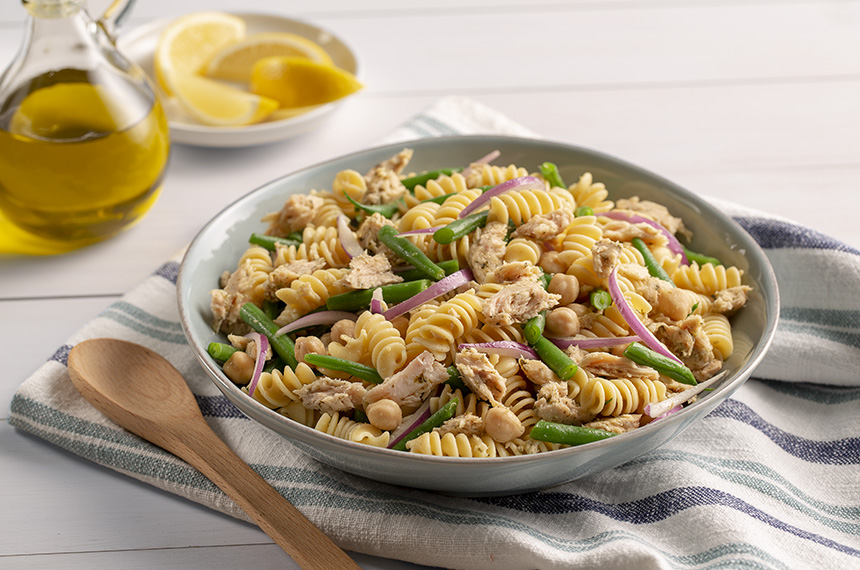 Lemon Dill Tuna Pasta Salad
So easy. Unbelievably tasty. This pasta salad recipe is all flavor and no fuss.
---
Ingredients
2, 3 oz. pouches Blue Harbor Fish Co. ® Albacore Tuna with Lemon Dill
¼ lb. Rotini pasta
1 – ¼ lbs. green beans, trimmed and cut into 1 – ½ inch pieces
½ cup sliced red onion
½ cup garbanzo beans, rinsed and drained
¼ cup Extra Virgin Olive Oil
Preparation
Cook pasta according to package directions.  Add green beans during the last 2 minutes of cooking time.   Drain in colander and cool.
Place pasta and green beans in a bowl.  Add onion, beans and tuna.  Toss with olive oil and chill until ready to serve.
Servings: 4
Prep Time: 15 minutes
Cook Time: 10 minutes
Nutritional Information
Serving Size 2 cups (289g)
Total Carbohydrate
38g
14%
Percent Daily Values are based on a 2,000 calorie diet.