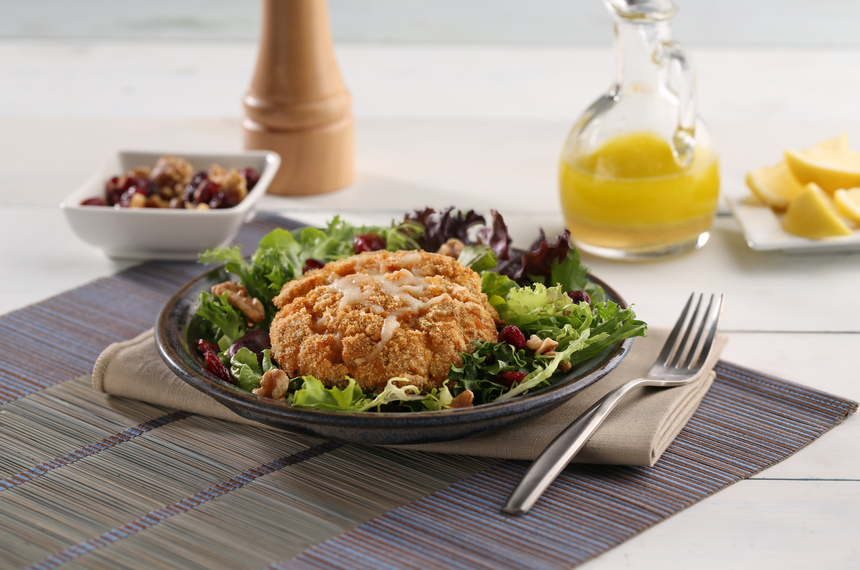 Lemon Rosemary Albacore Tuna Burgers
Light and fresh tasting these lemon tuna burgers are a perfect summertime supper!
---
Ingredients
2 pouches (3 oz. each) Blue Harbor Fish Co.® Albacore Tuna, No Salt Added
¼ cup chopped onion
1 tsp. chopped fresh rosemary
1 Tbsp. lemon zest
½ cup bread crumbs, divided
¼ cup shredded Provolone cheese + ¼ cup
½ cup egg substitute
Salad
4 cups lettuce
¼ cup dried cranberries
¼ cup walnuts (if desired)
Vinaigrette
2 Tbsp. Extra Virgin Olive Oil
1 Tbsp. Lemon Juice
1 - ½ tsp. White Wine Vinegar
¼ tsp. ground pepper (or to taste)
Preparation
Preheat oven to 350°F. Spray baking sheet with cooking spray.
In a medium bowl, mix tuna, onion, rosemary, lemon zest, ¼ cup bread crumbs, provolone cheese and egg substitute together until well mixed.
Place remaining ¼ cup breadcrumbs on a small plate.
Form into 4 patties (about â…" cup mixture for each patty) and cover with bread crumbs. Place on baking sheet.
Bake in preheated oven for 20 minutes, flipping patties halfway through. Top with a little of the remaining cheese during the last minute of cooking.
While baking, whisk together the ingredients for the dressing.
Place 2 cups of lettuce, ½ the cranberries and walnuts on 2 individual plates. Top with 2 burgers and drizzle with dressing.
Servings: 2 servings
Prep Time: 10 minutes
Cook Time: 20 minutes
Nutritional Information
Total Carbohydrate
38g
13%
Percent Daily Values are based on a 2,000 calorie diet.