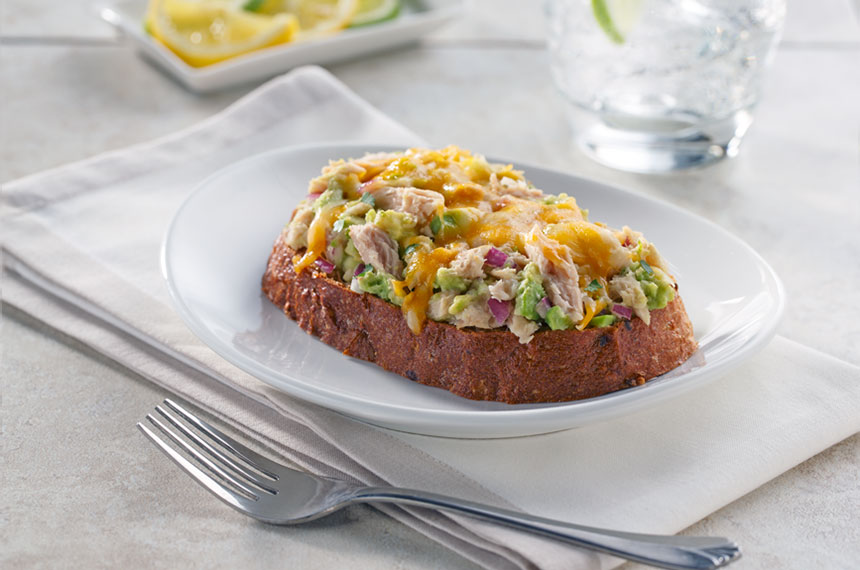 Open-faced Avocado Tuna Melt
Made with easy-to-melt Colby-Jack cheese and creamy, buttery avocado, this tuna melt is true to its name. It simply melts in your mouth.
---
Ingredients
2 pouches (3 oz each) Blue Harbor Fish Co.® Albacore Tuna in Water
1 ripe avocado, inside scooped out and mashed
¼ cup diced red onion
½ tsp. lime zest
1 Tbsp. lime juice
1 tsp. chopped cilantro
4 thick slices whole grain Italian bread
4 slices Colby-Jack cheese
Preparation
Preheat broiler.
Gently combine tuna, mashed avocado, onion, lime zest, lime juice and cilantro in a medium bowl.
Toast bread on each side under the broiler.
Spread ¼ of the tuna mixture on each slice of bread, top with a slice of Colby-Jack cheese, and place under the broiler to melt the cheese.
Servings: 4
Prep Time: 5 minutes
Cook Time: 3-5 minutes
Nutritional Information
Total Carbohydrate
22g
7%
Percent Daily Values are based on a 2,000 calorie diet.