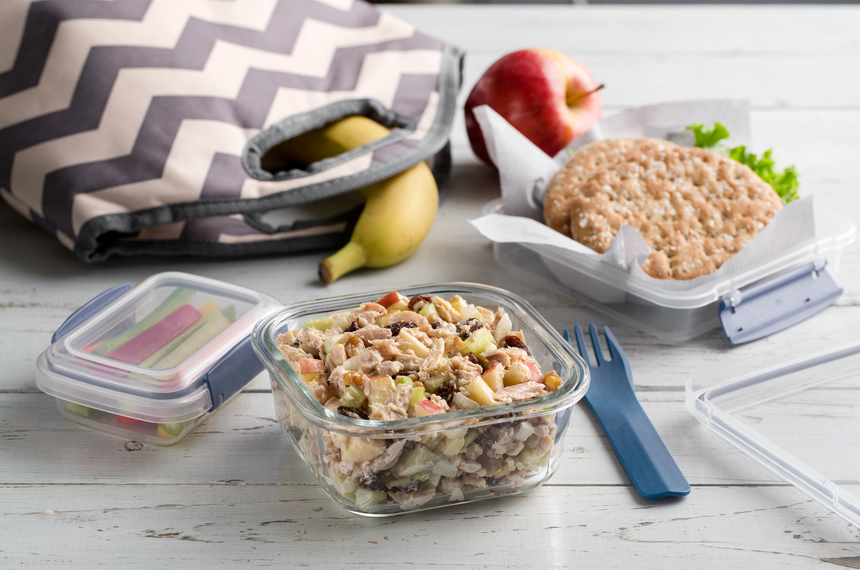 Walking Albacore Waldorf Salad
This hearty salad is the perfect "take along" lunch or snack. Pack for school, work or take it with you on your favorite weekend adventure!
---
Ingredients
2 pouches (3 oz. each) Blue Harbor Fish Co.® Albacore Tuna in Water
¼ cup diced sweet Vidalia onion
1 apple, small diced (Granny Smith or Honeycrisp)
¼ cup raisins
½ cup chopped walnuts
1 cup chopped celery
½ cup mayonnaise
1 tsp. sugar
½ tsp. lemon juice
4 flatbreads
4 pieces green leaf lettuce
Preparation
Place tuna, onion, apple, raisins, walnuts and celery in a medium bowl and mix together.
In a small bowl blend together the mayonnaise, sugar and lemon juice. Combine with the tuna mixture.
Place a piece of lettuce on the bread and top with tuna mixture. Pack the flatbreads in your favorite take along container and enjoy wherever you go!
Servings: 4 servings
Prep Time: 15 minutes
Cook Time: 0 minutes
Nutritional Information
Total Carbohydrate
43g
14%
Percent Daily Values are based on a 2,000 calorie diet.